Hospice Work
[o
ne_half_last]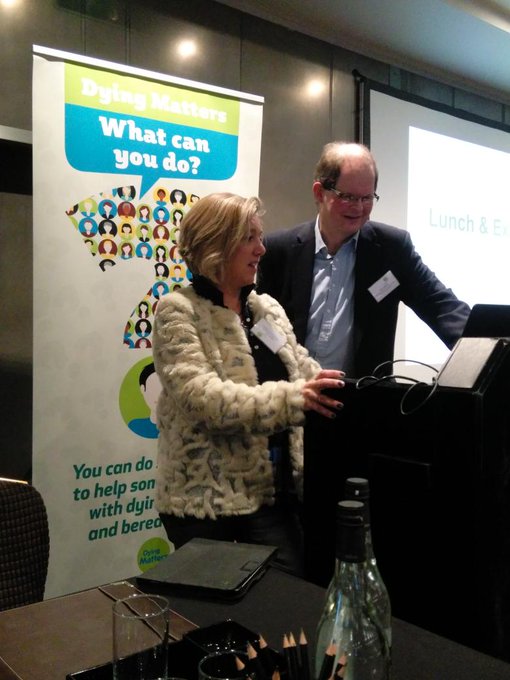 [/one_half_last]
In January 2017 Miranda was invited to share her hospice led  storytelling work with people at end of life at  the NCPC's Dying Matters Week launch. in june she was invited to speak  the first Internati0nal Health and Wellbeing Conference hosted by the University of Swansea and at the international Culture Health and Wellbeing Conference in Bristol.  Both were attended by an international audience of The audience of Health Care professionals, creative therapists and Health Service  Administrators.
Recognition at a national and  international  level of the power of storytelling to build confidence and self esteem at the end of life was something we at could never have anticipated when the programme was first shared in 2013/4
At the 2013 Help the Hospices Conference Doreen Tylden-Pattenson ( senior social worker) and I  presented the results of a pilot biographical storytelling project conducted in conjunction with Watford Peace Hospice . The project has generated outstanding results which we have  shared with colleagues from hospices across the UK. Interest in the programme has been remarkable. So much so that  in January 2017 I was asked to Chair the NCPC's Dying Matters Week Launch conference in London. For more information about the project please follow the links below:
http://www.ehospice.com/uk/ArticlesList/StorytellingimprovespatientwellbeingatThePeaceHospice102813032544/tabid/9102/ArticleId/7330/language/en-GB/View.aspx#.Um-FU3DQCLp
www.sharingstoriesforwellbeing.co.uk
In 2014 Life Stories was recognised by the National Dementia Care Association and was a finalist in their Dementia Care Awards
  The Ken Holt Memorial Award is given in recognition of those who have changed people's lives through using life stories.  It celebrates work that not only transforms the lives of individuals living with dementia and their family or carers but also has a liberating impact on professionals, positively changing organisational cultures through capturing, embedding and promoting the use of life stories. Miranda Quinney who has been capturing Life Stories at the Hospice for the past three years with Peace Hospice Care Senior Social Worker Doreen Pattenson attended the  presentations on November 11th at the Hilton Brighton Metropole and were delighted to be amongst the nominations. 'We were very proud of the nomination and that the Life Stories work brings recognition to Peace Hospice Care,' said Doreen. Their Life Stories project has been embraced by the Starlight Centre at the Hospice. 'I believe passionately in this work,' said Miranda Quinney. 'When an individual shares their life story it makes them feel valued and important and can take them out of where they are simply by being listened to. It turns the individual back into a person and not a patient. We all have memories we can talk about.' 'My hope is that every Hospice in every country uses life stories,' said Miranda. 'It does change and improve lives and everyone can benefit from it. Life stories was initially designed for use within Peace Hospice Care and is now reaching out into the community beyond its four walls.'
http://www.peacehospice.co.uk/
Life Stories
Rebuilding Self Esteem through Sharing and
Recording Biographical Stories
Introduction In 2012 we were approached by a local storyteller. We experimented with a simple programme, offering patients the opportunity to tell their stories on an informal basis and produced a series of simple one page summaries of the stories they told. The reaction of the patients and their families to this experience was very positive. They reported enhanced feelings of wellbeing, happiness and a generally improved quality of life. We are now piloting a closed group version of Life Stories offering a 5 – 6 week course of story sharing sessions to day patients and patients in the community. The results observed to date have been overwhelming – we want to share these with you. Aims The aims of Life Stories are to provide a space for reflection and story telling  for patients who are low in mood or anxious . Methods The weekly 1.5 hour sessions are  facilitated by the storyteller and attended by the senior social worker. Each session is structured using common life experiences eg seasons, senses, celebrations. Using a mix of individual and pair work, all participants are invited to explore the theme and its meaning for them before breaking into pairs and  sharinga related life story. Next the stories are shared out loud with the group giving the facilitator a chance to record them all. Results Feedback to date has been fantastic – patients visibly brighten and do not want to leave. A family member reported: "my mother is talking again and painting again – thank you". Conclusion Positive feedback from patients , their carers and hospice staff suggest that Life Stories workshops could be made available as part of a patient's individual care plan and be a regular part of the hospice day services.  
By September 2014 we had presented Life Stories to a range of interested groups including inhouse training for staff and volunteers at Hospices, taster workshops for those working within the caring professions in the local community and carer/patient groups. We were have now presented at  the 2014 Annual Conference of the Association of Palliative Care Social Workers, the 2015 Hospice UK annual conference, the 2016 International Conference of storytelling in Health , and the Narrative Leadership Conference2016.
Presentations scheduled for 2017 include the Storytelling for Health Conference and the Culture Health and Wellbeing Conference.
If you would like to learn more about the wellbeing effects of biographical story sharing please contact Miranda on 07729 064483  for availability and costings.